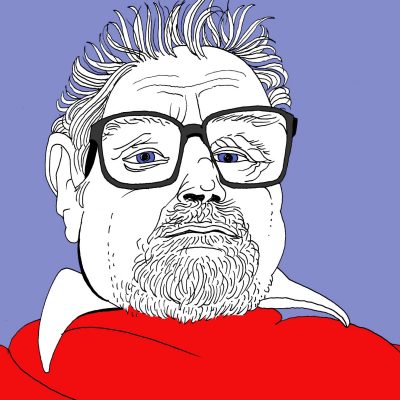 You will read, today and in the coming days, many warm testimonies and tributes to Alasdair Gray after his sad passing this morning (29/12/19), and from people who knew him far better than I did. However, I feel I have to say something about a man who not only helped to define Scotland's sense of self, but who changed the literary landscape alongside his friends and contemporaries, who include (among others) Tom Leonard, Liz Lochhhead, James Kelman, Agnes Owens, and Aonghas MacNeacail. To have such a group of writers and poets emerge at the same time is incredibly rare and special, and the fact that they were all still in contact and collaborating in later life speaks volumes for the strength of their ties and shared values. With Owens and Leonard also passing away in recent years it is surely time to reassess and laud their contribution to the national cultural conversation, artistically and otherwise. As such this is as much a celebration as eulogy.
One of those shared values was the belief that art and literature are for all, not only to be enjoyed by those who could afford to buy it, or to study it. Gray's love of and support for public libraries was vehement (he discussed it on the SWH! podcast which you can listen to in full below), and more than most artists he made his work genuinely public – the murals in Glasgow's Oran Mor and Hillhead Subway station being just two fantastic examples. He didn't seek praise for this, he believed it was fundamental to any civilised society. For Gray art and literature are not hobbies, pastimes or diversions, they are central to the human experience and our general well-being, and as such support for them is essential.
But it is as one of Scotland's greatest writers that he is best known, and, as often happens when someone writes a much-loved and acclaimed classic, (as Gray unarguably did with Lanark), their other work can get overlooked. As well as his novels, which include his own favourite 1982, Janine, Something Leather, Poor Things, A History Maker and Old Men In Love, he was a master of the short story, with the collection Every Short Story 1951 – 2012 being an essential publication.
Then there are his often overlooked collections of poetry, the plays, the non-fiction, just a few of which are Why Scots Should Rule Scotland, The Book Of Prefaces, A Life In Pictures, and Of Me & Others: An Autobiography, and his translations. And that's before you consider his work as an artist and illustrator for others. Alasdair Gray didn't just tell us that art was essential – through his life and work he showed us it was.
But it is his warmth and kindness which will stay with me – an example of how we should treat others. During my time as one of his secretaries he often had me reply to emails asking him for a review, a piece of work, or a possible appearance by saying that, while he was flattered to be asked, they should perhaps consider another. He would then suggest artists, writers, and friends who he thought would be perfect for whatever they were asking, and who would better benefit from it.
I often got the feeling that he was almost embarrassed by his relative fame in comparison to some of his contemporaries, and wanted to use it to promote those he admired and loved. A telling example of this can be found in his 'Postscript' to Agnes Owens' Gentlemen of the West which is fulsome in its praise, but which was typical of the man.
He also had a wicked sense of humour. My first day of working with him I arrived at his flat for 9am, nervous of course, and he answered the door in vest and pants, one sock on, one off – and a bowl of porridge in hand. He never did that again and I'm sure it was some sort of test to see if I was thrown by such 'eccentricity' (he was fully aware of his public image, and played with it). In truth, he was hard working and thorough – a working day often split into a morning of writing, and an afternoon of painting (or vice-versa), and then the evenings off. He seemed to take to heart Thomas Edison's proclamation that, "Genius is 1% inspiration, 99% perspiration." No matter the numbers, there was undeniable genius.
My most treasured memory of Alasdair Gray would be one sunny Saturday morning in 2013 when, instead of editing Of Me & Others as planned, he asked if I would like to hear something else he was working on. We sat in his kitchen and for an hour or so he read from hand-written manuscripts which turned out to be the beginning of his translation of 'Dante's Divine Trilogy' (the first two parts, Hell & Purgatory, have now been published by Canongate). It was a mesmeric, and increasingly excitable, performance which seemed to roll away the years, and which almost had me in tears when I thought of how lucky I was to be there.
Some say, 'Never meet your heroes, they're sure to disappoint you' – well I was lucky enough to meet one of mine and on a personal level he didn't let me down once. But collectively Alasdair Gray has left us a legacy and a vision which should neither be forgotten or ignored. He famously asked us to "Work as if you live in the early days of a better nation", a quote from the Canadian poet Dennis Lee which is engraved in the Scottish Parliament building. Alasdair Gray made this, and us, a better nation, and we should all be thankful for that.
This article was originally posted on https://scotswhayhae.com on December 29, 2019, and is republished with kind permission.
Comments
Comments