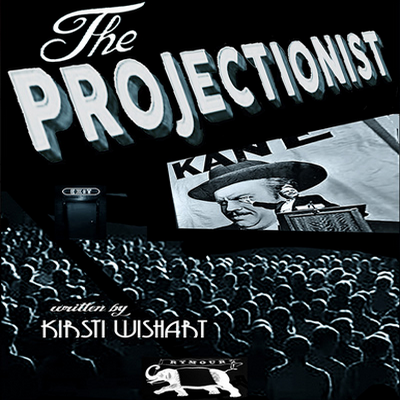 The best writing takes you out of your world and immerses you in another, and that's the case with Kirsti Wishart's latest novel 'The Projectionist'. Set in the fictional town of Seacrest 'The Projectionist' manages to make you nostalgic for a time and place which never existed. It's a book, and a place, in which to lose yourself as you meet a cast of colourful characters whose lives are interlinked in ways which only begin to become clear the further you read. 
The scene is set with a prologue which works as a pre-credits opening sequence. Projectionist Alec Lawson looks out over Seacrest bay and ponders what has lead him here, about to jump with no thought of his family, only of his meeting with the iconic Orson Welles. Alec jumps – fade to black… From there we get a wonderful sweeping description of Seacrest itself, with its pier, Big Wheel, arcades, food stalls, and many, many, cinemas. Wishart describes it as "[…] a town drunk on cinema", but the glory days of the town, just like much of the cinema it celebrates, are fading – hung over and decidedly peaky looking. It needs a boost and is about to get it. The Seacrest Film Festival needs a star turn to light up proceedings, and, in one form or another, is going to get one.
At its heart 'The Projectionist' is a 'who is it?' rather than a 'whodunit?' with the eagerly awaited appearance of film critic Cameron Fletcher due to arrive and bless proceedings. But is he who he purports to be? Rumour, myth, bluff, and counter-bluff, are flying around with everyone thinking they have the jump on others. There are roughly two rival camps. On one hand there is father and daughter Callum and Shona Boyd who lead a consortium which wants to wipe the town clean and start again with new-builds and non-cinema related attractions. 
On the other are a group, who include Alex Lawson's son Harry, film academic Dr Jo Ashe, and Cameron Fletcher obsessive Luke Howard, who want the town to keep its roots and remain true to its cineaste self. But everyone has ulterior motives, and intends to use the appearance of Cameron Fletcher for their own ends. In one way or another, he offers hope for the future, but what that future may be is unclear. There are lies, bluffs, double bluffs, and misdirection, which means you are never sure where everyone stands, and what they stand for – positions shifting like the Seacrest sands.
Like many Scottish writers before, Wishart offers different readings of 'The Projectionist', but does so with admirable subtlety. Is there a supernatural aspect to what people are experiencing, or is it more psychological? There are enough dark corners, underground tunnels, secret cinemas (and other places where you could bump into groups who celebrate dead movie stars) for you to lose your bearings. Either way, stranger things are occurring, and as the final reel rolls you are made to reassess all that has gone before, and just what led Alec Lawson to that cliff edge. 
'The Projectionist' is a must read for lovers of mystery and movies alike. Wishart clearly is immersed in both, and has written a novel which is part Agatha Christie, part Kenneth Anger, with twists, turns, and MacGuffins of which Alfred Hitchcock would be proud. There are so many cinematic references that if you don't get one, don't worry – another will be along in a moment. One of the joys of 'The Projectionist' is being taken back to films you have known and loved, sharing the joy not only with the characters but with the writer as well. It's a truly shared experience. 
And Seacrest itself is a character in its own right – Sundance crossed with Skegness – celebrating Britain's seaside towns as well as classic cinema and cinemas. If you have ever sat in a building known as a picture house or theatre rather than a 'plex' or 'world' (maybe a Scala, Dominion, or Imperial) this will take you back to those times and places. Kirsti Wishart has a written a novel to lose yourself in and you may find you want to stay. "Welcome to Seacrest".
'The Projectionist' is published by Rymour Books
Comments
Comments