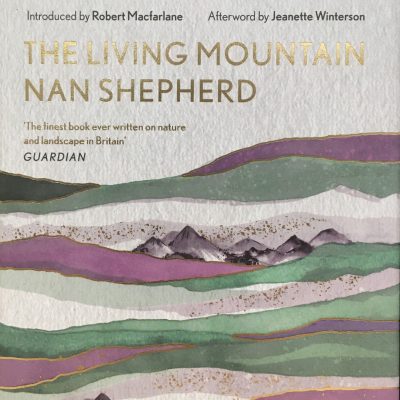 For my book of 2019 I have somewhat brazenly chosen one written in 1945 and not published until 1977. The reason I've settled upon this as my book of the year is thanks to the 2019 reissue of the title, which will hopefully help bring the writing of Nan Shepherd to a wider audience. I had been dimly aware of the name Nan Shepherd for years but had no real idea of who she really was, other than an author or a poet of some kind. When she appeared on the Royal Bank of Scotland £5 note in 2017 I became more curious but it was only with the beautiful Canongate reissue of The Living Mountain that I finally made the connection.
This is an astounding piece of work. It documents Nan Shepherd's lifelong love affair with the Cairngorm massif in north central Scotland. Her writing is as sharp as the winter wind on the slopes of Ben MacDui, as languid as a summer's day spent among the bees by Loch an Uiane. Hers is an examination of the mountains and the wilderness and not a desire to conquer either, but rather a need to be in and with the landscape. There is a harmony in her years spent amongst the peaks of the cairngorms only possible to achieve through time and familiarity.
This is, in the proper meaning of the word, a vital book. It's full of life and as I read it on a train heading south out of Edinburgh on a frosty, early winter's morning, the desire to jump off and catch a train heading north was overwhelming. For she paints a picture of a land that seems timeless, but as she is well aware, is yet deeply affected by time in its changing aspects and seasons, and land use. She writes of light, and of frost and of snow; of the smell of birch trees and the purity and depths of the beguiling waters of lochans hidden in the high corries which she describes, as only a poet could, as having the same elemental transparency 'as roundness, or silence'. Hers, in amongst this high plateau, is a world of wonder and yet also the grim reality of a harsh and unforgiving landscape.
At a time when the environment is becoming every day more important, and when nature writing has never been more popular, Shepherd's work is as essential and as relevant as ever.
Originally from Perth, Alan McCredie is a photographer and author based in Edinburgh. His latest book 'Scotland The Braw' is published by Luath Press.
Comments
Comments