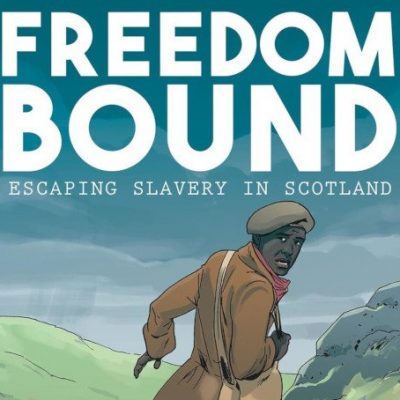 Perhaps one of the best things about reading is that it can seem like a portal to another world. Opening up the cover of a novel has the power to take us anywhere, without ever having to move from our seats. But what' s even more amazing is the way in which the literature we discover allows us to hold a mirror to our own world, to see our lives reflected back to us – our hopes and dreams, our politics and personalities. For graphic novels, the mirror is more real than metaphorical; we're confronted with physical images rather than mental ones. Even when the subject matter varies wildly, there's a commonality in the way that graphic novels can offer a truly unique, accessible experience. Take Dull Margaret, the first effort from Jim Broadbent and Dix. Loosely inspired by Dull Griet, a painting by Pieter Bruegels the Elder, you wouldn't expect it to appear next to something like Warren Pleece's Freedom Bound: Escaping Slavery in Scotland, or Jean Pierre Filiu's Best of Enemies. If these were simply works of written word, they'd never be found on the same shelf. But as they're all graphic novels, anyone's free to pick up all three and broaden their horizons all in one sitting.
That's not to say, of course, that all works of graphic literature are an exciting, visually enjoyable experience. In fact, I wouldn't even say that these three novels were. Dull Margaret is the perfect example: with its palette of green and grey, it often seems as murky as the marshes where the titular character makes her home. The rare flashes of bright colour are from things like stolen gold coins or red dresses, or even the yellow of urine, the orange of flame. If you're looking for something aesthetically pleasing, Dull Margaret is not it.
And while Best of Enemies and Freedom Bound are both in monochrome, their lack of colour does not make their contents any easier to stomach: from a casual reader's standpoint, the illustrations of the aftereffects of war can be very jarring. Then there are the images of slavery and degradation, in cities much closer to home than many of us will feel comfortable thinking about. These are not novels which anyone in their right mind would read to be cheered up, by any stretch of the imagination, nor could they be considered a fun, thrilling romp in the way that many people assume comic books and graphic novels will be. So what makes them so captivating?
For me, their true beauty lies not in the images themselves but the very fact that they exist. In all of Dull Margaret's stark, unforgiving landscapes, we're confronted with the desperate loneliness of a damaged woman, and there's no way to escape, much like Margaret herself has no way to escape. We cannot lose ourselves in any other narrative, any other chunk of text – again and again, we see the impact that her isolation has had on her, because it's presented to us in visual form. Best of Enemies takes an extremely thorny issue, the history of US and Middle Eastern relations, something which could arguably never be simplified, and presents it to us in a step-by-step narrative of events from 1984 to 2013 – this is the third instalment in Filiu's Best of Enemies series, all of which are graphic novels. You'd be forgiven for thinking that this might be too tricky for anyone to pull off, but the novel made itself understandable through the power of its illustrations. Even someone with no background at all in these particular politics can recognise the figures of Osama Bin Laden and Saddam Hussein, never mind George W. Bush, Clinton and Obama.
Placing them in the context of the admittedly disturbing images of conflict, or soldiers in the line of duty, helps us to understand in a more immediate sense their involvement in these particular horrors in a far more visceral way than the written or spoken word might do.
But my personal favourite of these three novels was Pleece's Freedom Bound. Moving from Virginia to Scotland to the Caribbean and back again, the illustrations heighten our awareness of just how brutal the slave trade was. It is one thing for us to know in theory that Scotland was involved with this horrifying chapter in history – quite another to be presented visually with the sorrow on these characters' faces, their struggles real and heartbreaking, especially with the knowledge that each and every person was based on real human records or inspired by those who truly lived those experiences.
Are these novels particularly beautiful in and of themselves, simply on the merit of their illustrations? I don't know that I'd say they were. They can be disturbing and strange, upsetting and brutal. But are they beautiful in the way they allow us a reading experience based in the things we already recognise from seeing around us, and not just words and paragraphs? If only I had the artistic skill to do justice to the size, the strength, the intensity of my yes.
Comments
Comments