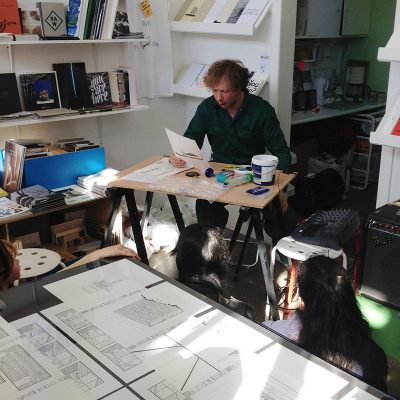 Malcy Duff (b.1978) is a cartoonist from Edinburgh, Scotland.
He has produced over 60 comix, including 'The Pineapple,' 'Jimmy Stewart,' 'The Heroic Mosh Of Mary's Son,' and 'A 52 Second Silence For Topsy.' His work has been published in a variety of magazines and anthologies, and has exhibited internationally. He also performs and records in the duo Usurper, which he co-founded with Ali Robertson in 2003.
He has been performing 'live comics' since 2010, and began a new solo project 'City Vegetables' in 2015. He also teaches comic books and drawing, and has worked in a number of schools, galleries, and hospitals across Britain.
His work was recognized by the Scottish Book Trust in 2014, and now works as one of their practitioners within their live literature scheme hosting workshops and events across Scotland.
He was the recipient of a Donald Dewar Arts Award for outstanding work in the comic book form in 2008.
More stuff about Malcy:
The Wire
Paul Gravett
Interview Malcy Duff on DCA Thomson
Duff & Robertson
Interested in his work, want to buy a High Hedges original or just want to get in touch with Malcy? Use the form below we will get it to him!
Comments
Comments