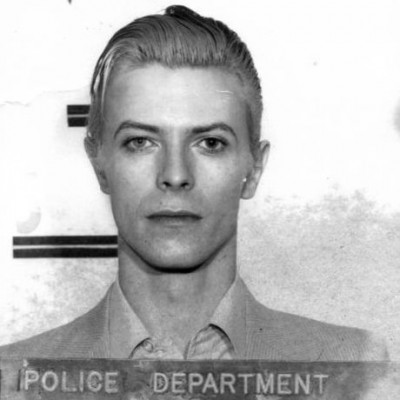 If you know me, you know that I've structured my life through ecstatic encounters with popular culture. When I lived in New York, I ran a reading series called I HAD IT BAD, which was nominally themed on crushes of all kinds, but let's be real: the crushes that most changed me were those I had on icons whose lives suggested it was possible to make a life of meaning and beauty through a rigorous embrace of the self. Billy Corgan, Wiliam S. Burroughs, Edward Gorey. David Lynch, Nella Larsen, Roberto Bolaño; the list goes on, but at its top is David Bowie. I fell into his embrace during my freshman year of college, lost and dazzled in New York City, walking the canyons of the East Village with his new-that-year album Reality in my discman. Often the wind took my balance and I dropped the discman and the CD clattered down the street. Chasing it, I'd lose my gloves, my hat, get soaked through my useless unwaterproofed boots – I didn't care if it meant a full twenty minutes drying my socks in a bathroom at Gallatin later – I wasn't going to be parted from that sound.
He had found me earlier, when I was twelve and rapt in front of MTV in my living room and the video for I'm Afraid Of Americans came on and threw me somewhere else.
I spent 2004 in the devoted pursuit I had at that point honed to an art, buying his albums, reading his first wife's book about him, treasuring a special issue of FADER chock-full of his indelible images. Loving Bowie was wonderful because no one could or would argue the point; everyone loved him, and I could talk about him with everyone from my Mum to my boyfriend to my professors. I don't care if it sounds cheesy, or if my love affair with Bowie feels oddly timed, given that he'd already been a celebrity for two decades by the time I was born. He gave me permission to be myself, showed me how great a place that weird dark powerful theatre inside my chest could be, and in knowing him and feeling his music I became a more capacious vessel for joy. Rest in Paradise.

Product Associate Editor Lisa Locascio's writing has appeared in n+1, Bookforum, The Believer, and is forthcoming in Los Angeles Review and the anthology California Prose Directory. Lisa lives in Los Angeles and teaches at the University of Southern California. She has recently completed a novel, Jutland Gothic. Tonight her favourite Bowie song is Starman. Tomorrow it could be Everyone Says Hi or Kooks.
Comments
Comments