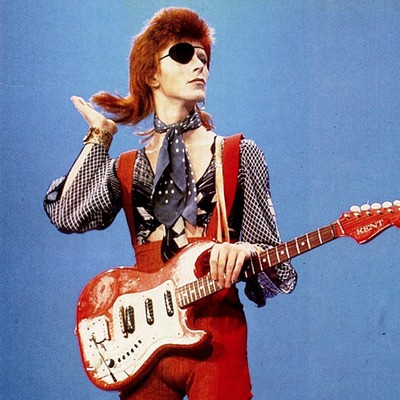 Last Friday, I was supposed to go to a Bowie Birthday Tribute Night. This was being held at Edinburgh's Citrus Club to celebrate both the release of Bowie's new Blackstar album and the great man's sixty-ninth birthday. As is usual with such tributes, the night would feature a compendium of Edinburgh punk/post-punk alumni doing covers of the thin white duke's finest works in their own Edinburgh punk/post-punk alumni kind of way. The attraction for me was head-lining act, Finger Halo, the new band fronted by Jo Callis. He'd been guitarist in The Rezillos and then Boots For Dancing before joining The Human League, co-writing Don't You Want Me and going to Christmas number one in 1981. This sounded great, because whenever you see film footage of Jo Callis, even when he was in The Rezillos he looked like he should've been one of The Spiders From Mars, and he looks even more like that now.
I'd suggested going to this to a few people a couple of weeks earlier, "in lieu of there being bugger all else on in the first weekend in January," but on the night itself I somehow managed to put myself off going. The weather was rubbish, I was still in post new year semi hibernation mode, and when someone messaged me and said they thought they might have seen Jo's band already, that put me off even more. Once someone else cried off, that was that. What did David Bowie mean to me, anyway?
I ended up going to another gig closer to home, which was fine, but I kind of regret not seeing Finger Halo. Judging by the review of it, I hope they play again soon. Apparently Finger Halo played all the best bits off The Man Who Sold The World and Ziggy Stardust, and Fay Fife from The Rezillos got up and sang Friday On My Mind, which Bowie covered on Pin Ups, and I bet it was ace.
But what does David Bowie mean to me? Not much, or so I think. He's just always been there, really. I'm not one of those pre-punk kids whose lives were turned upside down when a glammed-up Bowie put his arm round Mick Ronson on Top of the Pops when they were doing Starman. Nor was I one of those kids who started growing their hair into Germanic flicky side-partings and going to Bowie nights at otherwise horrible Liverpool nightclubs, accidentally inventing Scally culture as we know it in between pretending to be bisexual.
I preferred to keep my oddness undercover, hiding in plain sight with my Magazine and Joy Division records, but not really having frame of reference enough to know where they came from, even though it seems obvious now. There was that story as well about when Ian McCulloch and Will Sergeant met for the first time in Eric's, before they formed Echo and The Bunnymen. Will Sergeant asked Ian McCulloch what he was doing, and McCulloch said he was waiting for the gift of vision, which was obviously a line from the song, Sound and Vision, but was actually because he was really short-sighted and didn't have his glasses on.
And, okay, I'm going on about Joy Division again, but before Joy Division were Joy Division, they called themselves Warsaw, after the track, Warszawa on Bowie's album, Low, and when we were all serious young men and women, didn't we all want to go to Warsaw and Berlin? I even wanted to make a model of the Berlin Wall, and when I eventually got to go to Warsaw, before the Wall came down, it was as cold and grim as I expected, and all sorts of black market stuff was going on in the hotel bar.
Then later again, when I eventually got to go to Berlin, after the Wall came down, I remember walking along Alexanderplatz, and there was a glass case standing at head height on the sidewalk. In the glass case, which was an advert for the Checkpoint Charlie Museum, was a model of the Berlin Wall, with model cars and fences and towers like something out of the window of Harburn Hobbies on Leith Walk. And I walk all the way to the Museum, which was an independently run place on the cusp of where the border used to be, and which must've been right by where Bowie sang Heroes at the Reichstag concert in 1987 when the Berlin Wall was still in place.
And I remember when Michael Clark brought his new contemporary dance show to Edinburgh International Festival in 2009. Clark and his company were performing at the Playhouse, the same venue I'd seen a curmudgeonly Lou Reed attack his back-catalogue, then later play the whole of his Berlin album. At the end of the latter, where you might expect Lou Reed to revel in the album's misery, he seemed peculiarly chirpy.
One of the highlights of Michael Clark's show at Edinburgh Playhouse in 2009 was when the company danced to the video of David Bowie singing Heroes. The video is just Bowie, standing there singing against a stark back-lit set-up, nothing too fancy. This was quite a contrast to Clark's dancers, who were in an array of oddball costumes that seemed to revel in their grotesquerie.
But when the figure of Bowie started singing Heroes onscreen no-one really watched the dancers anymore. Every single person in the room was transfixed by Bowie and the poignancy of his voice as it rose and fell over the crisp industrial pulse that allowed the guitars on the record to reach out with such emotional force it was as if they were wriggling their way through a barbed wire fence, trying to find a pathway out.
And if it was as powerful and as magnetic watching a video most people in the Playhouse would have seen a hundred times before, imagine what it must have been like hearing Bowie play it live beside the still-intact Berlin Wall in 1987.
I spent hours in the Checkpoint Charlie Museum, and got upset when I realised I was standing right by places where people tried to smuggle themselves across the border but never made it. And it upsets me now because I know the Checkpoint Charlie Museum eventually had to close because whoever ran it couldn't afford to keep it open, and because that's just how western economies work.
2
Probably the first time I heard David Bowie was when Space Oddity came out. I'm not sure whether that was when it was first released in 1969, when Apollo 11 was going to the moon, or else a few years later, by which time he'd done The Man Who Sold The World, Hunky Dory, Ziggy Stardust, Aladdin Sane and everything. Either way, when I was four, or nine, or whatever it was, it was difficult to work out which order everything had come out in.
The first time Space Oddity was released, and I don't know whether the trippy video was done then or later, but when Apollo 11 went to the Moon, everyone who was five, or nine, or probably older, watched the rocket go up in space, and I vaguely remember watching it with my Dad. And because of watching Apollo 11 going up into space, everyone who was five or nine or whatever wanted to be a space man, or an astronaut, and would run round in a space suit, just like the ones in the picture being used to advertise the new spate of gigs by Michael Head and The Red Elastic Band. Maybe it was a Liverpool thing.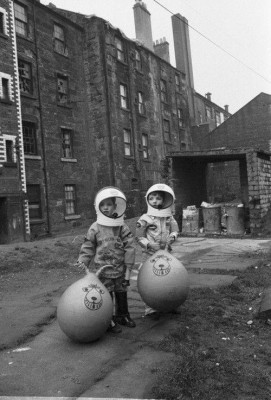 But I certainly liked the space aspect of David Bowie, because I really liked watching science-fiction and monster films on the telly. And the way Bowie dressed, which was a bit like a girl with orange hair by that stage, wouldn't have looked out of place in Dr Who or something, and Life on Mars and Starman sounded like science-fiction as well.
I remember my sister telling me about that time that she'd read in the pop magazines that they said there were three aliens in pop, and that they were David Bowie, Eno and Lou Reed. Aliens? That sounded amazing. And slightly scary.
I got that David Bowie was an alien alright, because I'd seen him floating in a space ship on telly with his orange hair dressed like a girl. Eno too, because I'd seen him on Top of the Pops with this other band called Roxy Music, and they all looked and sounded like they were from outer-space. Eno looked especially weird, and on Pyjamarama, he played this strange-looking computer-type thing that made these funny squiggly noises that wasn't music exactly, but seemed to fit in with the song anyway.
So yes, I could see Eno might be an alien, especially as I didn't know at the time that his first name was Brian. But Lou Reed? He just sang that Walk on the Wild Side song that was really slow and mumbly, and didn't really sound that alien at all. Or so I thought, anyway.
I remember loving The Jean Genie when I was eight or something. Rebel Rebel too. I didn't know what a Jean Genie was, but in my head the song was a bit like Block Buster! by The Sweet, which came out a couple of months later, and which sounded harder somehow. The Jean Genie, whoever he was, sounded like a tough guy, which, when I sort of put two and two together about ten years later and bought The Miracle of the Rose, I found out was kind of true, but not quite in the same way I thought.
Rebel Rebel sounded even harder. Slightly dirty as well, with all that talk of torn dresses and hot tramps, but I quite liked the idea of being a Rebel Rebel. It sounded like it could be something out of science-fiction again. And when I found out much later that Diamond Dogs, (the album that Rebel Rebel was on) was based on George Orwell's 1984, it all seemed to make sense. Apart from the torn dresses and hot tramps, that is. There weren't many of them in my copy of the book.
Then along came The Man Who Sold The World, who sounded like a tough guy as well. He sounded like a gangster, though if I'm honest, I remember Lulu singing The Man Who Sold The World more than I remember David Bowie singing it, and I remember how odd it seemed, seeing Lulu standing there in her pin-stripe suit trying to look mean singing a song that sounded like something David Bowie would do.
3
On Sunday night, I fall prey to the usual online sound and vision distractions, which means the things I'm supposed to be writing always end up taking longer to do than they should. I watch YouTube links to sixties Bowie singing Let Me Sleep Beside You and When I Live My Dream, two songs I'd loved from that era ever since I'd picked up the Images compilation on secondhand cassette at Record Shak, beside the Queen's Hall, where in the eighties I'd always go to straight after cashing my Giro.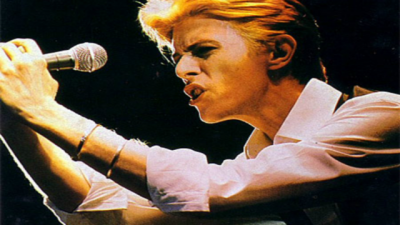 When I Live My Dream is lovelorn and wistful, and could be something out of a musical, and I remember when I first heard it, taking it totally seriously and at face value in all its soppiness. Later, I remember feeling ever so slightly put out when a mate, who knew about musicals and Bowie better than I did, used to pose about singing it like it was a pastiche.
On Let Me Sleep Beside You, Bowie sounds less wide-eyed and innocent. His voice is lower, more conspiratorial, like he's been around a bit, possibly hanging round with the London boys and getting up to no good. Even so, there's still a purity to it. I recently heard Bowie's new version of Let Me Sleep Beside You, not officially released until the 2014 Nothing Has Changed compilation. Compared to the original, it sounds meatier and clatterier, like Bowie knows a thing or two now, for sure.
And I must still be feeling bad about not going to the Bowie Birthday Tribute Night, because then I watch the video of Absolute Beginners, which was the theme song from Julien Temple's big glossy 1980s film musical of Colin MacInnes' novel. Set in multi-racial 1950s West London, it was knee-deep in jazz in the way that the American Beats were, and features the Notting Hill riots of 1958 as part of the love story.
Absolute Beginners is really overblown in the way that a lot of things were in the '80s, and it doesn't really do the book justice, even if the film isn't nearly as bad as reviews said at the time. In the film, Bowie plays a larger than life ad man, which he apparently made a condition of doing the theme song. But that's okay, because Bowie's theme song to Absolute Beginners, released with a seven minute long black and white video that's as 1980s as the film, is a glorious construction. It's as louche and as loaded with ennui and romance as anything Bowie's done.
But I probably only realised this when I heard St Etienne do Absolute Beginners on the So Tough tour in Glasgow in 1992, when Pulp were supporting them. And hearing the song played by an electronic pop group with a female singer like Sarah Cracknell made me go back to Bowie's original.
To be honest, I'd steered clear of Bowie for a few years, ever since he stopped being weird and made Let's Dance in1983 with Nile Rodgers. It wasn't that it was a bad record. Far from it. It was a joy, delivered with a spring in its step and the zeal of a convert who's just discovered the value of sunshine and getting their five a day.
The album's title track and lead single was as ubiquitous that spring and summer as Blue Monday by New Order and Church of the Poison Mind by Culture Club, and, off the leash in London for the first time, I found myself dancing to all three records in a club in Covent Garden. On. My. Own.
While these days such uncharacteristically-boisterous behaviour is close to impossible, the thing about Let's Dance that bothered me was that my mother liked it. I'm not sure it was the record she liked, but Bowie's new image. Gone was the make-up, the long hair and the strung-out ascetic look, replaced by sun-bleached quiffs, big smiles and primary-coloured suits that gave him the air of a racy bank manager on a night out.
So taken was my mother with Bowie's new image that she actually put a poster of him on her wall. I've no idea where she bought it from, but when she put it up on the wall next to her wardrobe in her bedroom, it troubled me slightly. I was still a teenager, and, despite my night in Covent Garden, unless they were Claire Grogan, I preferred my pop stars to be as sulky as I was.
Here was the man who'd hung out with Andy Warhol and William Burroughs, for goodness sake, and who the year before had put Bertolt Brecht into the pop charts on the back of playing the title role in Alan Clarke's split-screen heavy TV production of Brecht's play, Baal. And rather than looking like he was introducing the masses to the alienation effect with those split screens, here he was all dressed up like he was having fun, and my bloody mother fancied him. The 1980s were full of contradictions like this, and for a young man starting to make his way in the world this was confusing, especially once I realised it was only going to get worse.
But I can't be bothered watching Baal, though I do watch Jazzin' For Blue Jean, the twenty-minute rom-com scripted by playwright Terry Johnson and directed by Temple prior to Absolute Beginners as the promo for Bowie's post Let's Dance single, Blue Jean. And I watch the video for The Buddha of Suburbia, Bowie's theme song to the TV version of Hanif Kureishi's novel of the same name. The Buddha of Suburbia was set in multi-racial 1970s South London, and was full of sex and punk and radical theatre. And I stay up far later than I should do watching all this, because I didn't go to the Bowie Birthday Tribute Night, but, yeah, that's what David Bowie means to me.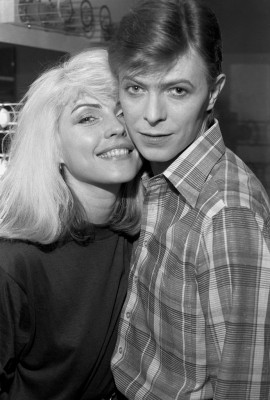 4
On Monday, when I turn on the radio, the first thing I hear is the final strains of Kooks, one of the most gorgeous songs Bowie ever did, and I'm trying to process what happened between me finding out what David Bowie meant to me and what was announced early this morning. BBC 6Music is all over Bowie, and plays his music pretty much back to back for the next few hours.
The only time the music stops is for the news, which leads on Bowie's death, though inexplicably and infuriatingly, of all the people in the world they could've spoken to about Bowie's death, who knew him, or worked with him, or have something significant to say about him – they have David Cameron.
David fucking Cameron, talking about the importance of Bowie to his generation, the same way he talked about The Smiths and The Jam, missing the point of them entirely, the same way he missed Squeeze having a go at him on live TV on Sunday when they changed the lyrics of their new song to point up his ongoing destruction of the welfare state, while he was sitting two feet away from them.
Mercifully, by the time the news come round again they've managed to find Tony Visconti, and it's a relief that Cameron's gone. And later, someone posts something about how Bowie turned down both a CBE and a knighthood, which makes me feel better about hearing Cameron on the news, but not as much as reading about the newsreader who mistakenly read out that it was Cameron who had died and not Bowie. If only.
And while I'm processing all this, I'm on the phone, and out of the corner of my eye on the left side of my bombsite of a desk, I clock something which startles me for a second, and I do a double take.
Over the course of the day, in between listening to all the songs and the tributes and doing what I'm supposed to be doing and sharing all Bowie's songs I like on social media and hating David Cameron for so many other things besides him being on BBC 6Music News, I reach out for the few totemic connections with Bowie that I have. I root out my copy of the Edinburgh International Festival magazine from last year that looked at the festival's opera programme. Not because Bowie was in it, but because I'd mentioned Bowie's play, Lazarus, in a piece I'd done on The Last Hotel, a short opera written by Enda Walsh, who'd co-written Lazarus.
Lazarus is currently playing Off-Broadway, and is a sequel of sorts to The Man Who Fell To Earth, Nicolas Roeg's collage-like film of Walter Tevis' novel. Both the novel and the film are about an alien who comes to Earth to try and save his planet, but who falls prey to the TV and booze culture of American capitalist society instead. The Nectarine No 9 did a great song called Walter Tevis, which was the first time I'd heard Tevis' name.
Nicolas Roeg worked with other rock stars as well as Bowie. In 1970, he co-directed Performance, starring Mick Jagger, who Bowie would record a duet of Dancing in the Street with for Live Aid in 1985. Following The Man Who fell To Earth, Roeg would go on to direct Art Garfunkel in Bad Timing. The same year as Live Aid, Roeg directed Insignificance, based on Terry Johnson's play. Johnson would go on to write the screenplay for Jazzin' For Blue Jean, and would pen additional dialogue for Absolute Beginners.
Anyway, the piece on The Last Hotel in the Edinburgh International Festival opera magazine was spread across two A5 pages, and had a picture of the actress in the show, Claudia Boyle. The picture was arranged in such a way that on one side of the first page, Boyle is in profile, with her face looking into the camera, and her reflection in a mirror. The mirror image takes up most of the picture, with Boyle smoothing down her fair hair on one side of her pale face as she peers into the distance across both pages, with my text underneath.
I also found the 7" picture disc of Changes released for Record Store Day last year, which my friend Rachael gave me as a thank you present. Without thinking I put the record on top of the copy of the Edinburgh International Festival opera magazine with the pages open on my piece about Enda Walsh's The Last Hotel, with the picture of the reflection of Claudia Boyle.
Then, while I'm on the phone, I clock this out of the corner of my eye. I notice the photograph of Bowie that's on the Changes picture disc, which I think is from Hunky Dory, all bell-bottomed androgyny and long hair. And in the picture, which was apparently inspired by a book of Marlene Dietrich images, Bowie is smoothing his fair hair down from the top of his head, back from his pale face, which is looking into the camera like he's looking into a mirror. And seeing those two faces placed next to each other like that, Bowie's and Claudia Boyle's, for a split second it looks like it could be the same person, or at least brother and sister.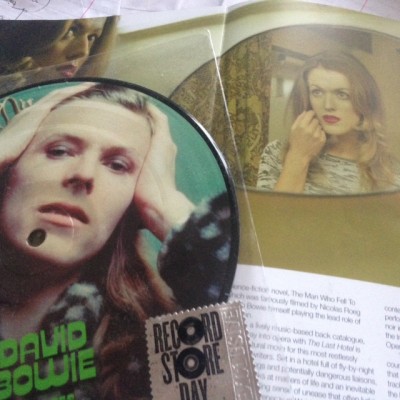 And after I clock this, I think that, as a swansong, having a play and a song called Lazarus, like the one that's on Bowie's Blackstar album, which was released last Friday, is a pretty good way to go out, and isn't too bad an intimation of immortality.
Lazarus was the man, or one of them, raised from the dead by Jesus in the Bible. But it makes me think as well of Some Live Like Lazarus, a short story by science-fiction writer Ray Bradbury, which isn't actually a science-fiction story at all. Some Live Like Lazarus is told through the eyes of an older woman who has been pining for a man for forty years, ever since they were both children, but the man is too beholden to his domineering and seemingly invincible mother to ever fully reciprocate.
Like Lazarus the play, Some Live Like Lazarus is a story about loss and wasted opportunities, and not taking the chances you know you should do when they come your way. Which is about as opposite to everything that Bowie has ever been about as you can get.
And now I know what Bowie means to me, I still wish I'd gone to the Bowie Birthday Tribute Night at Citrus Club, and I still wish I'd seen Jo Callis' new band, Finger Halo, because I bet they sounded just like the Spiders From Mars. But I know they'll be playing again somewhere, probably in Citrus, and I know most of all that raising the dead doesn't happen anymore. I also know that if this is everything that David Bowie means to me, chances are everything he's done, and everything he is, was and ever shall be is going to mean a whole lot more to everybody else, and I know everything's going to be okay. So let's dance.
Comments
Comments