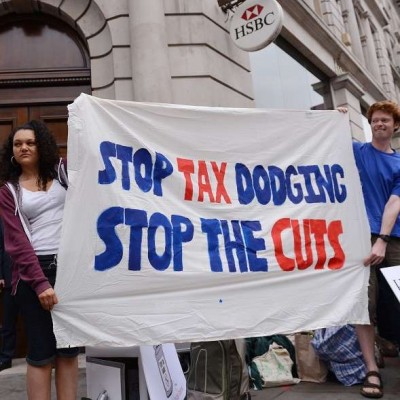 1. Scrap TTIP Never heard of TTIP? That's because it's a secret deal, being worked up by corporate lobbyists in the EU and US.  But you'll certainly be feeling the effects if it goes through. The deal is basically a corporate wish-list. It could lower our strict food and environmental standards (GM crops & chlorine chicken, anyone?). It could see governments sued by companies for 'lost profit' in corporate courts. It would make it impossible to reverse privatisation. And it puts our public services, including our NHS, at huge risk of being carved up by multinational corporations. TTIP can be stopped – and 38 Degrees members have been at the heart of the fight so far. Along with many other campaigners, we're out on the streets, we're sending politicians emails and tweets – they can't avoid the issue, and can't sit on the fence. To join the campaign in Scotland, click here
2. Target the Tax Dodgers Tax dodging is costing us billions of pounds. As more and more services are cut, the richest are using legal loopholes to pay as little as possible. Recently 38 Degrees members funded an expert report into one such scam, which we've called the 'Mayfair Loophole'. Should private equity bosses pay less tax than nurses? We don't think so. We're campaigning to make the government close the loophole, which is costing the taxpayer between £200 and £700 million every year. To support the campaign, add your name here
3. Fight the Fracking Industry. In Scotland it's the central belt – already riddled with old pits from the last mining era – that's the focus for this dirty industry. With affected communities gearing up to oppose the plans, 38 Degrees members set up petitions and raised thousands for lawyers to fight their corner. In January, the Scottish Government were under pressure to take a stand. In just 24 hours over 2,000 members of 38 Degrees emailed and tweeted the Energy Minister urging him to ban fracking; he announced a moratorium and we'll keep fighting, along with Friends of the Earth and others, to stop fracking before it begins.
4. Lancashire vs. Fracking England has no such ban – so applications to start fracking are already going through. Lancashire is at the frontline of the fight against dirty gas, and 38 Degrees members have been taking action in huge numbers to stop drilling there. Local people are putting up posters, holding street stalls, and writing to MPs and newspapers to stop the fracking companies turning countryside in Lancashire into gas fields.  Add your support here
5. The Trump Evictions Billionaire Donald Trump had his heart set on creating another golf course on Scotland's East Coast – covering an ecologically fragile dune system, and people's homes. Residents objected and one became a hero for their cause, refusing to sell his farm, which Trump referred to sneeringly as a 'pigsty'. Standing with residents and with campaigning group 'Tripping Up Trump', over 20,000 38 Degrees members signed a petition to stop the evictions Trump was pursuing. In February 2011, he backed down.  A big win for residents, and for anyone who thinks that the Trumps of this world can, and should, be stood up to.
6. Stopping the Forests Sell-Off The coalition wasted no time with its "let's-sell-everything" approach, and in Autumn 2010 they announced the sell-off of forests in England and Wales.  Over half a million 38 Degrees members took action, with 100,000 contacting MPs. Together we funded a survey, finding a huge majority in favour of keeping the forests in public hands, and groups formed all over the country to plan local actions. All this activity was part of a huge national outcry involving many organisations.  And it worked. In 2011 the government backed down, and in 2013 pledged extra funding for woodlands and a commitment to public ownership 'for generations'.
7. Halting Murdoch in his Tracks Media mogul Rupert Murdoch thought that corporate power and influence would be enough to secure the takeover of BSkyB, giving his organisation massive and undemocratic influence over the media. But he lost. 38 Degrees members, along with campaigning organisations across the country, took action in huge numbers several times over to halt the deal. Tens of thousands emailed ministers, contacted Ofcom, funded adverts, handed in huge petitions to government, and protested outside Parliament. Despite dirty tactics of Murdoch's newspapers and the government, we kept going throughout 2011, until Murdoch caved in and withdrew his BSkyB bid.  Result!
8. New Women's Super-Prison – Scrapped! Why commission an expert report then ignore its advice?  That's what it seemed the Scottish government were doing with plans for a new women's 'super-prison'. All the evidence points to community-based schemes being far more successful. Determined to stop this wasteful and damaging plan, members of Edinburgh Women for Independence started a petition on 38 Degrees, which was signed by almost 4,000. It was debated in parliament, and the Justice Secretary then decided to scrap the super-prison. Credit was claimed by politicians, but real credit should go to Maggie, Women for Independence, and the many 38 Degrees members who spoke out.
9. Save the Steps! Public meeting place, or plate-glass "rotunda"? When proposals to demolish the Buchanan street steps to build a shopping mall entrance appeared last year, two local 38 Degrees members set up a petition. They and others worked tirelessly to raise awareness and stop the demolition. As well as a 14,000-strong petition, over 300 hand-written objections were submitted. Councillors received hundreds of emails and tweets from supporters, and the campaign got loads of coverage and support. But the planning committee decided to ignore the protests of thousands and rubberstamp the demolition anyway. One campaigner noted that the council's Games catchphrase, 'People Make Glasgow', rings pretty hollow.
10. … and a victory (for now): Barrowland Park This lovely wee park was built as part of the Barras-Calton Regeneration Project, opened for the Commonwealth Games. It is home to an amazing album-art-pathway, which celebrates the thousands of bands to have graced the stage at nearby Barrowlands since 1983. But the site is earmarked for retail and housing development.  Calton resident Thomas started a petition stating that removal of this popular park would be a huge waste of public money. Over 5,000 people agreed with him and after some mumbling and grumbling the council responded to say that, for the duration of 2015 at least, the park would remain.
– – –
Anyone can set up a petition on the Campaigns By You site. Existing campaigns cover a huge range of issues from the local to the national. Saving our heritage, architecture and much-loved local institutions, preventing cuts to vital local services – all these struggles start with one or two people, perhaps feeling powerless to achieve what they want. By coming together with others in their area and across the country, it's incredible what we can achieve.
To set up your own campaign, visit the Campaigns By You site: https://you.38degrees.org.uk/
Jen Stout is the Scotland Organiser for 38 Degrees. She comes from Shetland and now lives in Glasgow
@38_degrees
Comments
Comments