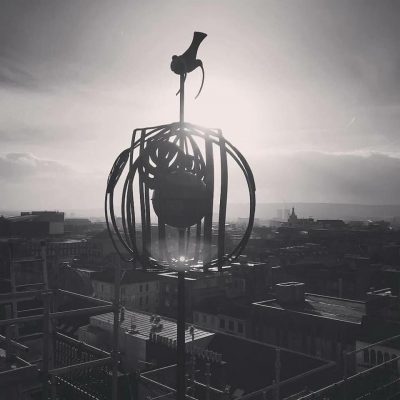 It's not Grenfell. No one died. For that, I'm so incredibly relieved, but since Friday night's devastating fire I've been in such a deep state of shock – totally incapable of processing, accepting or responding coherently to what has happened to our beautiful Mackintosh Building. I don't feel much better today, and feel a strong urge to stand in the Garnethill streets and see, with my own eyes, what's left, before I might actually be able to accept the finality of the situation. I can't begin to process the wider ramifications of what's happened and right now I can only respond on a personal, emotional level – by articulating what the Mac meant and what it continues to mean to me – and I know, absolutely, that what I say will mirror, almost identically, the thoughts and feelings of so many others across Glasgow and far, far beyond.
Most of Saturday felt like a strange and hopeless bad dream, one of those ones where some prior trauma is reanimated, but you're half-aware you're dreaming, aware enough to tell yourself that the bad thing has happened before, in real life, and couldn't possibly happen again, but your subconscious has chosen to regurgitate it as a particularly acute and heightened – though highly improbable – version of the original event. There always was something 'not quite of this world' about the Mac: dreamy; ethereal; transcendent. That explosion of white as you passed through the swing doors from the night-black corridors, anointed by and dissolved in the crispest light I've ever experienced, flooding the vast first floor studios! That play of shadow and shape on the polished concrete in the castle tower-like east/west stairwells (probably my favourite places in the building)!
It was a monument to the magical, a space so absurdly imaginative, yet, on a practical level, so utterly perfect to work in (at least when I was there) that it seems bizarre that such a building could ever actually exist. I was intoxicated by the strangeness and wonder of the place upon many a childhood visit and teenage evening class. I dreamed about the possibility (which felt highly improbable at the time) of one day actually inhabiting the same alien realm and breathing the same charged air as the exotic creatures I'd seen moving through this impossible space. I'd never experienced anything quite like it before, nor would I again in the years to come. It was utterly unmatched.
I feel so incredibly lucky to have spent four years as a painting student in that building – four years spent mainly dreaming, but, oh, what a place in which to dream! It was a building that seemed to soak you up and soak into you, under your skin, into your DNA, into your dreams. It never left me, it changed me, it became one of my compass points, and it's so strange and hard and painful to think of my own personal Glasgow compass without it, the needle spinning madly as the axis shifts fundamentally, permanently.
I returned for a while to teach classes there, so glad to be back, and visited whenever I could get the opportunity or excuse to pop in and breathe in the air again – charged and alchemical, seemingly lighter than the air outside. Recently my dreams revolved around visiting with my four-and-a-half-year-old son. I found myself counting down to the time, soon, when he'd be old enough that I could share the spell with him. I'd show him this incredible place and we'd climb through the holes in those magical stairwells, gasp at the Hen Run and feel on top of the world as Glasgow stretched out before us.
It's just a dream.
Douglas Morland is a Glasgow-based visual artist and musician who has exhibited worldwide since graduating from GSA fifteen years ago after gaining an MFA and a BA in Painting from the institution.
*
If you enjoyed this article, why not make a donation to Product? We're an independent publisher with charitable status (SCO 29793). The magazine is edited, designed and produced by volunteers, with all contributions of time, skill and content given for free. We showcase work by new writers, artists and photographers at an early stage in their careers, many for the first time. A small donation can make a big difference towards the running costs of the magazine. Please donate here:
Comments
Comments