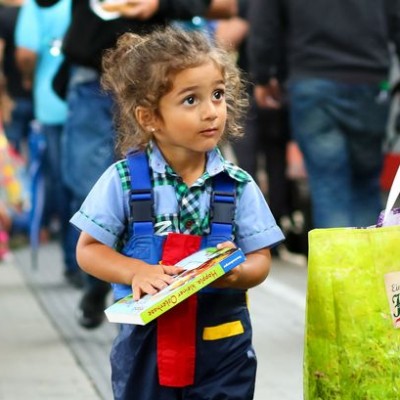 There's no getting away from the fact that we're facing a massive challenge when it comes to child poverty – both in Scotland and across the UK. While child poverty fell consistently from the mid-90s onwards, that trend ground to a halt from 2012/13, leaving 220,000 children in poverty in Scotland in 2015. The Institute for Fiscal Studies (IFS) now projects that child poverty is set to rise, forecasting an increase of up to 50% across the UK by 2020. That means tens of thousands of children will be dragged into a poverty that could overshadow their childhoods, undermine their health and threaten their ambitions for the future.
Parents are starting to feel the strain too, with the weekly struggle to balance the books causing stress, upset and frustration. Many describe feeling exhausted and defeated by the ongoing battle to make sure their kids don't go without, with some explaining that going hungry and doing without have become an everyday part of life as a parent.
"I've had a really bad time with money. I'm having to not buy her clothes, not buy me clothes, not feed myself. I'm really, really trying and it's not working. It's too expensive, so whenever I read the letters asking for money I cry. I've stopped looking at them…" – Ashleigh, Inverness.
The ability to afford healthy food, school uniforms, and even nappies may become illusory
Low pay, insecure employment, lack of childcare and high housing costs are all big factors behind these unacceptable levels of poverty. But the general consensus from independent expert bodies such as the Resolution Foundation and the IFS is that certain cuts to the social security system are the key drivers of increasing child poverty today. In particular, the decision to freeze the value of benefits (including working tax credit, child benefit and universal credit) will have dire consequences for many families both in and out of work. Despite the fact that the cost of living is widely expected to rise sharply in the coming years, the value of these benefits will remain stubbornly unchanged. Many families' ability to afford healthy food, school uniforms, and even nappies may become increasingly illusory.
One positive, however, is that the Scottish Government is taking the problem of child poverty very seriously. As well as making commitments to reduce the attainment gap and to reduce health inequalities, the government has committed to introduce a Child Poverty (Scotland) Bill in the new year. The legislation is likely to include a pledge to eradicate child poverty in Scotland by 2030.
This is a hugely welcome step and a sign of real commitment to tackling the scandal of child poverty. But the sad truth is that legislation alone won't solve this problem any more than crossing our fingers, closing our eyes and hoping for the best.
And while efforts to close the health gap and the educational attainment gap are massively welcome they don't actually do anything to address the money gap (aka poverty) that causes inequalities to exist in the first place. We need decisive action – now – to put money in the pockets of parents who so desperately need it.
Topping up child benefit by just £5 would reduce child poverty by 13%
The Child Poverty Action Group in Scotland believes the solution for many children could be delivered through the Scottish Government's new social security powers, some of which have already been devolved through the Scotland Act 2016. One of the new powers, for instance, allows the Scottish Government to 'top-up' the value of benefits still reserved to the UK government – including child benefit. This could prove to be a hugely significant new power for Scotland.
Academic research shows that by topping up child benefit by just £5, we could reduce child poverty by 13% against current levels. That would mean 30,000 fewer children in Scotland living in poverty. Rates of up-take of child benefit are high, it's usually paid to the child's main carer and its delivery is largely unaffected by the delays and administrative problems that plague many other benefits. In other words, it's a sure fire way to effectively boost the incomes of hard-pressed families. While it doesn't solve the problem of child poverty it could put Scotland on a completely different trajectory to the rest of the UK, lifting tens of thousands of children out of poverty and setting them on a more positive and prosperous path.
Hanna McCulloch is the Policy and Parliamentary Officer for Child Poverty Action Group in Scotland (CPAG).   
http://www.cpag.org.uk/Scotland
This is the first in a series of policy proposals and ideas featured in Ten Things We Can Do For Children in Scotland Now which will be posted over the coming weeks. To read each article, follow us on twitter @scottishproduct or Like us on Facebook www.facebook.com/productmagazine
To submit an article to Product please contact us on info@productmagazine.co.uk
Comments
Comments