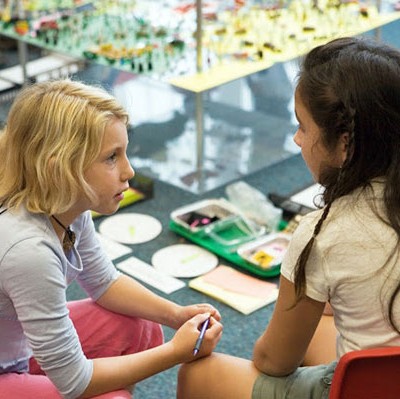 Sometimes the best approach is the simplest and this is especially true when it comes to doing the right thing for children and young people. It's clear to me that time and again the best results for any undertaking always come about when we, as adults, listen better to the views of children and young people and involve them more in decision making. It does sound simple, and I think there is increasing acknowledgement of the value this approach. For a long time, report-based research would dismiss or leave out children's voices, until real thought was given to adapting our tools and approach to be child-focused. This means using images and clear language, inviting and recording ideas creatively through art, video or gameplay and always, always communicating with children in ways they can easily understand. Such an approach is especially helpful for children and young people who have speech and language difficulties or additional support needs.
Article 12 of the United Nations Convention on the Rights of the Child (UNCRC) is the right to have an opinion and for that opinion to be listened to and taken seriously. To support this principle, my office developed the 7 Golden Rules for Participation (http://www.cypcs.org.uk/education/golden-rules). This helps adults to understand what the United Nations means by participation, and understand what they should do to get children and young people to take part in decision-making.
The advantage of giving credence to children and young people's opinions is being demonstrated in some of our schools. Research we conducted on pupil attainment specifically examined why a number of secondary schools with catchments in more deprived areas of Scotland were identified as having higher than expected exam results. Seven of these schools took part in research which aimed to find out if schools serving deprived areas distinctively supported pupil achievement and attainment, through recognising pupils' rights and allowing them to actively take part in decision making in the widest possible sense.
The research focused entirely on the pupils' perspective rather than on the adults in the school; and sought to explore how pupils themselves would describe the links between different kinds of participation and 'doing well'. For the young people, 'doing well' meant both attainment (such as test scores, examination grades and formal qualifications) and achievement (wider success and development). Our research found that young people definitely saw a connection.
In schools that do well, we found that there was a shared understanding among pupils and staff of the value of participation across all areas of school life, from planning for the formal curriculum and the informal curriculum, to having a place on decision-making groups and other places of informal contact among peers and adults.
These schools also had a culture of respect across the school and clearly positive teacher-pupil relationships. It was noticeable that in these seven schools, across all arenas of school life, pupils had substantial opportunities to formally and informally take part in a variety of meaningful activities, to take responsibility for events, contribute to school life, and have their views considered in matters that affected them.
Put simply, for young people to develop and 'do well' it is necessary to value and enable their participation. Participation is not an unwieldy concept, but it is a powerful tool. I am encouraged that nowadays, the question most often asked about the participation of young people has shifted from 'why?' to 'how?' Applied conscientiously, participation is more than just having a say in decision making – it's about schools and other organisations taking a broad, rights-based approach.
Tam Baillie is the Children and Young People's Commissioner Scotland.
Comments
Comments