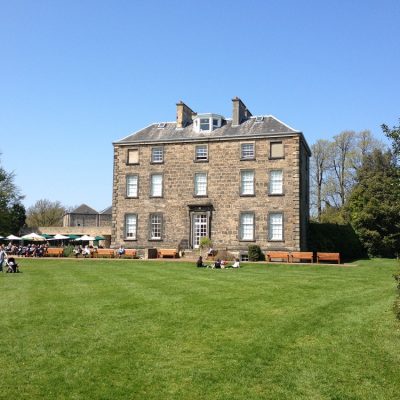 Inverleith House is one of Scotland's most important cultural assets and it's in a hiatus. The final day of the I Still Believe in Miracles exhibition attracted several hundred art lovers to show how meaningful the programme is and has been to them. Since then an online petition has achieved over 10,000 signatures. Even more than the numbers, it's the heartfelt reasons for signing the petition that prompted this post…Inverleith House is the best small gallery in the UK. Visionary, uncompromising, always exquisite. It's an essential part of the marvellous botanic gardens. Because nature inspires art, and art inspires a love of nature. Understanding that precious connection is part of understanding what nature is and does. This connection between art and nature should be nurtured by the RGBE. It's a betrayal of RGBE's obligations to the public as a custodian, not owner, of the gardens and Inverleith House to turn this public exhibition space into a slick and soulless corporate venue closed off to the public.

Inverleith House is situated in an estate that became the Royal Botanic Garden Edinburgh (RBGE). The house became an art venue and since 1960 has been a crucial space for modern and contemporary visual art. Paul Nesbitt has been at the helm of the venue since 1986 and steered a programme that has blended land art, scientific displays and, most significantly, some of the most important art of our time. It is probably Scotland's finest visual art space and I know how profound an experience it was for artists to be invited to exhibit there. It was an incredible place to encounter art in and for me personally, an amazing place to have worked on exhibitions. I found that essence rare, it's what I looked for.
Twenty years ago I started working at Inverleith House, first as a volunteer and then a year later I becoming the gallery manager. Between 1997 and 2007, I gained incredible experience working with artists of the highest reputation and others on the way up. Franz West, Lawrence Weiner, Robert Ryman, Cy Twombly, Carl Andre, Laura Owens, Mark Leckey, Alan Charlton and also Scottish based artists including Cathy Wilkes, Lucy McKenzie, Graham Fagen, Smith/Stewart, Jim Lambie and Keith Farquhar and with curators such as Rainer Crone, Mark Francis, Paul Bradley and David Moos. Paul has a charismatic and inspirational approach to encouraging artists and guest curators to make great shows and it was an honour to contribute to that work.
At Inverleith House, I can still remember having encounters with visitors such as the cinematographer Jack Cardiff in town for the Film Festival, the author Tama Janowitz over for Julian Schnabel, Tom Hanks popping in to see William Eggleston, Paul Haig from Josek K in to see Stanley Kubrick's photography. I remember Shirley Manson being hyper about being in the presence of David Shrigley, and Stewart Lee being cheeky about Mark Lamarr in the comments book. Art luminaries such as Jeff Koons, Nicholas Serota, Sidra Stich, Robert Hopper, Tracey Emin, Chris Ofili, John McCracken, James Turrell, Merce Cunningham all visited. I most vividly recall meeting Bryan Robertson – the truly visionary curator of the Whitechapel in the 1950s and 1960s (This is Tomorrow, Pollock, Rothko, Rauschenberg…) Bryan, while on a dedicated visit to the Ed Ruscha exhibition in 2001, compared Paul's programming to Walter Hopps (the founder of the Ferus Gallery in Los Angeles) – high and deserved praise from someone who truly knew a thing or two about art. And I think of Paul in terms of Hopps, and Hopper and Robertson.
This independent, idiosyncratic programming made Edinburgh less provincial
Through my work for Inverleith House, I went to New York to research and borrow Ruth Vollmer sculptures and drawings and speak to people including Richard Tuttle, Jack Tilton and the Vogels. I went round the Picasso Museum in Paris with Carl Andre while he was installing at Yvon Lambert. I went on a road trip to Marfa with Ann Reynolds, visited Laura Owens at Crown Point in San Francisco, heard Jo Baer and Yvonne Rainer talk in galleries in Los Angeles. I couriered Roni Horn works over from Milan. It informed me and countless others who are making their way in the art world and I do not want to see it disappear. Since I left Inverleith House almost ten years ago, the programming has remained remarkable. From Marc Camille Chaimowicz, Cerith Wyn Evans, Isa Genzken to Tony Conrad alongside Luke Fowler, Victoria Morton, Alex Dordoy, Karla Black, Corin Sworn, Tony Swain and Ciara Phillips. And museum-worthy exhibitions of Philip Guston and Joan Mitchell. It's an independent, idiosyncratic model of programming that made Edinburgh a lot less provincial. 10,000 Inverleith fans can't be wrong.
Throughout the last thirty years, Henry Noltie has presented exquisite and rigorous botanical exhibitions. Colleagues from across the garden have been involved in the administration and delivery of the programme. Paul has always relied on a team who have helped develop the place. Paul's co-workers such as Amy Dennis, Linsey Young and Chloe Reith in the last decade need to be credited for the venue's development in this period. We are well into the hundreds in terms of staff who have gained experience in this venue. Fundamentally though, Inverleith House has an ethos that has been personified by Paul himself. It is shocking to everyone connected to the venue that it is closed and that Paul is not playing a central role in the discussions for the future of the venue. After over thirty years working there, he deserves to be.
Right now, Centre Pompidou is exhibiting Cy Twombly and Tate Modern has Robert Rauschenberg. Meanwhile PS1MoMA has Mark Leckey. The 21er Haus in Vienna has Franz West and Inverleith House is closed. The considerable noise about the closure should not be the narrative. Inverleith House and RBGE should be in the spotlight, basking in recognition for having presented significant shows by these artists and many, many more. Paul should be acknowledged for this and supported to continue his work. All the great work is being undone by this closure and it is part of a wider problem in the cultural sector in Scotland.
Artist Richard Wright fears RBGE have no idea what an extreme act of vandalism this represents
Other much better funded spaces are now slowing down to three month long shows. The consequence of this is less exhibitions per year and less opportunities for artists. Audiences and artists are missing out, short-changed by this. Artists including Jim Lambie, Richard Wright and Douglas Gordon have been vocal in their support for Inverleith House – they all benefited from an Inverleith House exhibition earlier in their career that undoubtedly contributed to their international reputation. Wright was typically eloquent when he said "the demise of Inverleith House as a centre for contemporary art will be an enormous loss to Scottish culture. I fear that RBGE have no idea just what an extreme act of vandalism this represents. From an international point of view, Inverleith House stands on its own."
It's now even more difficult for the Scottish artists who should be getting ready for a show at Inverleith or at the Fruitmarket but are not getting these opportunities. The ecology of the sector is suffering and that is desperately sad. We are in the business of developing a strong art scene in Scotland. The last thirty years in Scottish art have been incredible and Inverleith House has been an intrinsic part of that story.
I know many people who got a kickstart from working at Inverleith House who are now well in to their careers as artists, curators, art handlers, marketeers and arts administrators. Inverleith has combined a commitment for up-and-coming art, for grassroots activity and it has been finely balanced with working with artists at the proverbial top of the tree. I will be forever grateful for the idiosyncratic, passionate, holistic programming both as a member of staff and as a visitor. Right now, there will be a bunch of art school & university students and recent graduates who would be volunteering at Inverleith but cannot because the gallery is closed and those opportunities are unavailable to them. Takahiro Iwasaki represents Japan at Venice this summer – having developed work at Inverleith House whilst he was a student on the Art, Space, Nature MFA at Edinburgh College of Art.
Inverleith House audiences have been treated to something distinctive when other venues have often been generic in their choices of artists. The sudden closure leaves the RBGE looking uncultured. The external sculptures by Barbara Hepworth, Reg Butler and especially Ian Hamilton Finlay and Alan Johnston belong in a philosophical, enlightened garden, adjacent to this most beautiful gallery of modern and contemporary art. I think back to when Joseph Beuys, Lady Rosebery, and Buckminster Fuller met in the RBGE glasshouses. I think of all of the people that came to Inverleith House for art and then also experienced the garden. 2017 is the centenary year of the publication of D'Arcy Thompson's On Growth and Form, RBGE should be celebrating how artists have learned from scientists. I was introduced to the writings of D'Arcy Thompson, Conrad Hal Waddington and Patrick Geddes from the bookshelves of Inverleith and the RBGE library by Paul and by Henry.
The Botanics is a great garden and I do appreciate a majority of the visitors do not visit the gallery and are not contemporary art cognoscenti (this is frankly also true for Dundee Contemporary Arts and for Glasgow's CCA where the cafes are bigger draws than the galleries that give the spaces their names). A majority of Botanics visitors just want a walk in a garden without dog excrement and are similarly not there for the remarkable scientific research happening behind the scenes. But many visitors to RBGE have been going because it has been a home to a venue with an amazing art programme dating back to 1960. Even if they haven't heard of the artist on view, they are curious and trust the vision and continuity of the curator. The art exhibitions were always inclusive and the interpretation and invigilation geared towards a general visitor. The exhibitions were generally very favourably reviewed, generating awareness of the house and the garden. The success of the recent programme, namely the John Chamberlain exhibition, the British Art Show (the third time it had come to the garden) and the I Still Believe in Miracles exhibition illustrated the dynamism of the programme. Whilst it does sound as if there is an exhibition for the 2017 summer season, when the gardens are at their busiest. I would make a case that it is the rest of the year that the garden gained so much with the indoor offer of the exhibition on the rainy and cold days.
Paul struck a deft balance at Inverleith House with several botanical exhibitions derived from the RBGE library. The programme has consistently had smart links between art and the natural sciences with exhibits by the likes of Lothar Baumgarten, herman de vries, Peter Randall Page, Chris Drury, Andy Goldsworthy, Rory McEwen, Stella Ross-Craig, Philip Taaffe, Susan Derges and Cy Twombly to name just a few. Art lovers absolutely appreciate the setting of the gardens and as a consequence generally visit other parts of the garden. It feels like a pilgrimage to visit the exhibitions and to experience the seasons in the garden. I can relate it to the walk through Madrid's Buen Retiro Park in preparation for an experience in the Palacio De Cristal. I similarly cannot separate the Villa and the Galleria Borghese in Rome or the Serpentine and Hyde Park in London. The exhibition budget has always been small in comparison to other venues but the situation of the house as gallery in such a magnificent garden has wowed the likes of Bloomberg, Absolut, Gagosian, Pace and the Raussmüller Organisation to want to partner up with the gallery. It is the quality of light and proportions of the rooms, the prestige of the exhibitions programme and Paul that brought them to RBGE.
Imhotin near Belo Horionte in Brazil, could be the basis for a next generation Inverleith, and is surely a case study for the hastily formed steering group. http://www.inhotim.org.br/en "Inhotim offers a new model far removed from that of the urban museums. The Inhotim experience mainly involves a spatial relationship between art and nature that allows artists to create and show their works in unique conditions. The spectator is invited to stroll through gardens, forest landscapes and rural settings, roaming among lakes, trails, mountains and valleys, actively experiencing the space." Artists of the calibre of Burden, Penone, Hitschhorn, Kusama and Meireles in a botanical garden – precisely the sort of ambition we should maintain for Inverleith.
I really hope there can still be a great future for the gallery and that Paul can be included in this process. He's one of the most experienced visual arts professionals working in Scotland. Inverleith audiences have been treated to something distinctive (when other venues have often been generic in their choices of artists). Writing in 1996, ten years into his tenure, Paul wrote the following text in the important early publication for the radiant solo Edinburgh Festival exhibition by Callum Innes: "The Royal Botanic Garden Edinburgh has encouraged the showing of art in the most appropriate and beautiful space of Inverleith House, founding home of the Scottish National Gallery of Modern Art from 1960 to 1984. It has done so through a programme of temporary exhibitions which acknowledges the need for a more complete appreciation and understanding of the natural world than that provided by science (or art) alone." The love and dedication for Inverleith House and RBGE shines through in Paul's words.
Two weeks ago I accompanied the tireless Joyce McMillan to a meeting with Chris Breward who is chairing the steering group for the RBGE. It's tasked with deciding on the future of not just Inverleith House also developing a vision for art in all four RGBE gardens in Edinburgh, Dawyck, Logan and Benmore. It was reassuring to meet Mr Breward and I have faith in the other members of the working group. I still believe there should be a space at the table for Paul – thirty years of his life and career has been invested in Inverleith House. If you care about the ecology of culture please sign the petition to save this unique and special space.
https://you.38degrees.org.uk/petitions/prevent-the-closure-of-inverleith-house-edinburgh-as-a-public-art-space
Comments
Comments