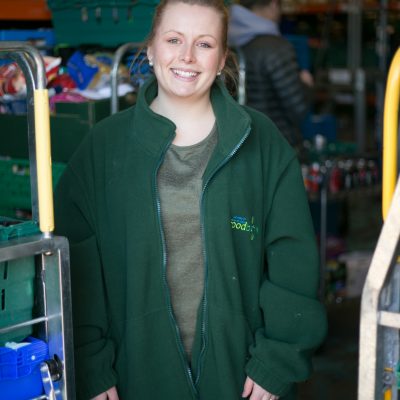 Edinburgh Food Project began in our founder's garage in 2012 as one person's attempt to tackle rising food poverty and inequality in one of the wealthiest cities in the world. Since then, we've expanded significantly in response to ever increasing demand, and have adapted our services to meet the community's evolving needs. The rollout of Universal Credit in Edinburgh has resulted in a sharp increase in demand for our services: Jan-Oct 2019 had a 48% increase in referrals compared to the same period in 2018. Which reinforced the need for us to focus both on relieving the symptoms of food poverty and on tackling the underlying causes through our 'More Than Food' approach.
At the heart of everything EFP does are our values: compassion, dignity, respect and integrity. Our original model was simple: we ask members of the wider community in Edinburgh to donate food and essential household supplies for local people experiencing crisis. A large team of skilled and committed volunteers from the community collect, sort and distribute this food to people referred by our partner agencies. These volunteers also – crucially – provide a warm welcome and safe space for people in need, ensuring that their needs are met with kindness, dignity and respect.
To date, EFP has provided almost 40,000 adults and 15,500 children food parcels containing nearly half a million meals, achieving this by:
• Operating seven foodbank centres across the city, which are open fifteen times each week. These foodbank centres/hubs are located in Pilton, Rannoch, South Queensferry, Broughton, Grassmarket, Tollcross and Craigmillar.
• Working with over 230 referral agencies
• Recruiting, training and supporting nearly 200 volunteers
• Distributing over 550 tonnes of food donations (130 tonnes in 2018/19 alone)
The food we distribute is donated by the public. However, it costs us £6 in running costs, excluding salaries, for each emergency food parcel we distribute. For us to continue to provide support to people in Edinburgh, it's crucial for us to not only collect donations of food items, but also monetary donations.
It costs £6 for each emergency food parcel we distribute. To continue providing support to people, we urgently need donations of money as well as food
In addition to expanding core operations to meet this rising need for emergency food supplies, we have more recently developed a 'More Than Food' programme to help tackle the underlying causes of food poverty. We are currently partnering with nine specialist support agencies who provide a total of thirty drop-in advice and support sessions for foodbank clients at our centres each week. These partner agencies provide these sessions at no charge to EFP.
Ultimately, we hope that the services of EFP will no longer be needed in the future as food poverty will no longer be an issue that affects our community. To help achieve this goal – which feels increasingly distant as demand for our services continues to increase as a result of changes to the benefits system and the effects of austerity on our communities – we also provide regular data to the Trussell Trust to support their advocacy and campaigning efforts at the UK national level.
It may seem bizarre that something as simple as donating your records through Vinyl For Food Banks can help people in need, but it genuinely makes a difference.
Thank you to everyone who has donated money or vinyl, or may donate in the future. Your help is invaluable and allows us to provide support to people who may otherwise go hungry.
Comments
Comments