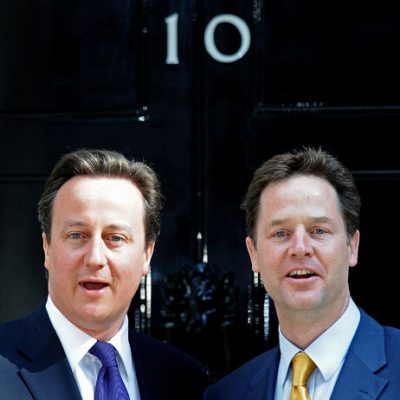 6th May 2020 marks the 10thanniversary of one of the most significant general elections in British political history. It took several days before the outcome became clear. But following some hurried negotiations it produced the first formal coalition in post-war British politics. This indeterminate result produced one of the most decisive turns in recent economic and social policy. We are still living with the legacy of the 2010-15 Conservatives and Liberal Democrat coalition government. Its defining feature was its commitment to 'austerity' – a programme of unprecedented public spending cuts. Although that government did not meet its fiscal targets, the measures it took have been dramatic. This is shown by considering another significant anniversary which has just passed. 1st April 2020 was the deadline for one of the most ambitious social policies introduced by the last Labour government – to eradicate child poverty in Britain. Despite supporting the 2010 Child Poverty Act in Parliament, once in office the Conservatives and Liberal Democrats quickly repudiated it and took a different policy direction.
Rather than reduce child poverty by increasing incomes through tax credits (which the Deputy Prime Minister Nick Clegg dismissed as a 'poverty plus a pound' approach) the coalition government abolished income-based targets and redefined child poverty in terms of the supposed self-destructive behaviours and family characteristics which they alleged were its real causes. Driving this agenda was Iain Duncan Smith, the Secretary of State at the Department of Work and Pensions from 2010-16. His view of poverty was influenced by a visit he made to Easterhouse in Glasgow in 2002, where he concluded that poverty was due to a benefit system that trapped people in a state of dependency and demoralisation. The response to this was exemplified by the Troubled Families programme, designed to 'turn around' the lives of supposedly dysfunctional and problem families (only in England, as none of the devolved governments adopted the policy).
Another product of Duncan Smith's epiphany was Universal Credit (UC). This was intended to simplify a complex social security system and reinforce work incentives. However, through chaotic implementation and several dysfunctional features (such as the 5 week wait for the initial payment) UC has become notorious and is directly responsible for increasing, debt, rent arrears, poverty and the number of families relying on food banks. In fact, one of the sharpest legacies of the coalition government (and its successors) has been that food poverty and a reliance on charity have become normalised features of the British welfare system. In 2005-06, fewer than 3,000 emergency food supplies were provided by the largest food bank provider, the Trussell Trust, in 2016/17 this had increased to almost 1.2 million.
Although the coalition government did not believe in measuring child poverty in relation to median incomes, the Office of National Statistics still gathers this evidence. This clearly shows the legacy of years of austerity: the reduction in child poverty achieved since the late 1990s has been lost and is being reversed – forecast to rise to 36% by 2021-22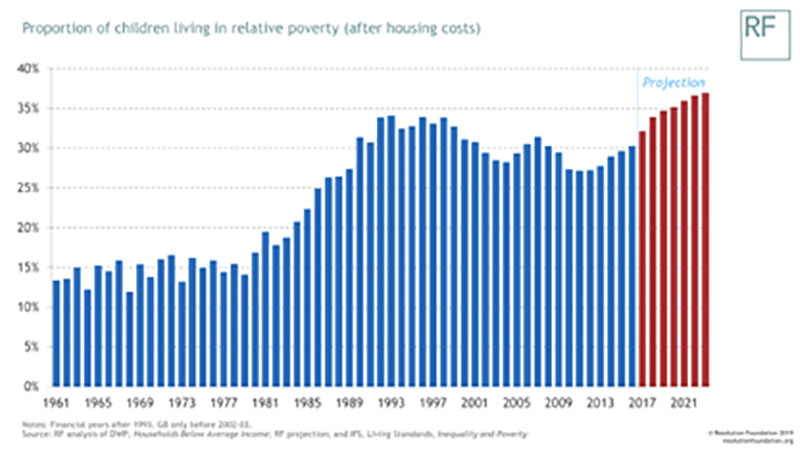 Source: Resolution Foundation, 26thFeb, 2019 – https://www.resolutionfoundation.org/comment/what-does-new-ons-data-tell-us-about-incomes-and-inequality/
There are many well documented reasons for this predictable outcome. But a central feature is mistaking (or perhaps misrepresenting) the relative risk of poverty for its causes. It is true that children in households which display some of the behaviours and problems that so troubled Iain Duncan Smith are more likely than others to experience poverty, but (to paraphrase John Veit-Wilson): if broken families, substance misuse and feckless behaviour were really the principal causes of poverty then Boris Johnston would be targeted by the Troubled Families programme. Just to consider one fact: there is no evidence of any lack of work ethic among those experiencing poverty in Britain. In fact, Britain has one of the highest levels of employment in the developed world. The real problem is that many entry level jobs are low paid and insecure. This lies at the heart of the relentless increase and prevalence of in-work poverty, such that 70% of children in poverty in the UK live in employed families.
Those who defend the legacy of the coalition government might claim that the sacrificing children's well-being and blighting their futures were unfortunate necessities, compelled by the need to a cut a national debt inflated by salvaging reckless financial speculators. But even in these terms austerity failed – as a percentage of GDP public expenditure in the UK was largely unchanged in 2019 compared to 2007 because cuts undermined economic grow.
The response of the coalition government to the last great economic crisis led to increased poverty, social division and a vicious political climate. Hopefully, we will use the current crisis as an opportunity to take a different path.
Stephen Sinclair is Professor of Social Policy at The Scottish Poverty and Inequality Research Unit, Glasgow Caledonian University
Comments
Comments