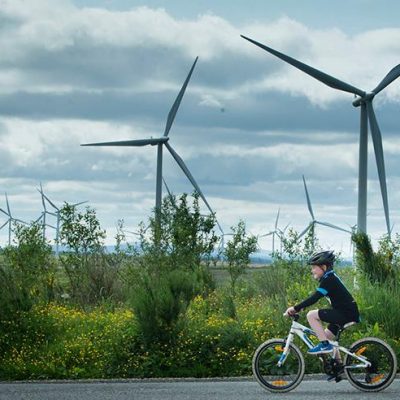 Did you know wind turbines are a Scottish invention? The very first wind turbine used to produce electricity was built just over 134 years ago, in the small village of Marykirk in Kincardineshire. Professor James Blyth's ten-metre-high wind turbine provided electricity to power the lighting in his holiday cottage, making it the first house in the world to have its electricity supplied by wind power. Scotland is blessed with an enormous amount of wind, wave, and solar resource, even if it doesn't seem like there's enough sunshine. We have 12GW of renewable generating capacity installed, with a further 14GW (2020) in the development pipeline from planning to construction. In 2020, we produced over 97% of our electricity needs from renewable generation alone. This places Scotland in the top three producers of renewable energy in Europe. Scotland has 25% of Europe's offshore wind resource and 25% of European wave resource. Onshore wind is now the cheapest way to generate electricity with offshore wind and solar costs reducing all the time. As we transition away from coal, oil, and gas to generating electricity from wind, waves and sunshine, the 'fuel' is essentially free. If the fuel is free, we can ask what of the other costs involved in generating and distributing power to homes could also be removed?
The average household electricity bill in Scotland is £686 which is made up of several elements; generation costs, transmission and distribution, metering, sales and marketing, billing, some additional 'green' taxes and, of course, a profit margin for the various companies involved. The question is, can we reduce this amount to get it down to the level of our current water supply – £372 in 2020/21 – and incorporate it within our tax system?
Scotland's wealth of natural resources, our preeminent position in the early development of renewables and our unique social conditions ideally place us to tackle global environmental challenges
Without fuel costs, generation costs consist of the high capital and installation costs upfront, then the much lower operational and maintenance costs for the life of the plant. Transmission and distribution costs in Scotland are already artificially high as the UK-wide grid operator charges Scottish windfarms millions to connect to the grid while paying the plant in the Southeast of England to connect. This is to encourage generation near the UK's largest population centres but does so to the detriment of Scottish generators. There is no time like the present to readdress this. Ofgem recently recommended that the current grid operator, National Grid, be stripped of its role in managing the network and a new independent body put in place, effectively renationalising the transmission sector.
The remaining consumer business costs of sales and marketing, metering, and billing are no longer required if the product is free. Customer service will be limited to reporting power cuts, requesting connections for new properties or disconnections for old. All those ads on TV- gone. No annual renewals, searching for the best deal. No ties-ins, switching penalties or confusing tariffs to choose from. No more estimated or incorrect bills! No bills at all! In addition, we can call a halt to Scotland's share of the £13bn delayed smart meter roll-out. Consumers would be free to use any system or app to monitor their own consumption. The currently installed meters can be safely ignored, 2.4 million silent witnesses counting the movement of free electrons.
Other than businesses, for whom energy procurement would continue as before, the only exception to free domestic electricity supply would be for those with domestic swimming pools which require a significant amount of energy. Pool owners might be required to secure a supplier and have that usage metered. This would have an additional benefit of encouraging pool owners to find efficient and environmentally friendly ways of heating their pool.
Our neighbours over the sea, Norway, are as similarly blessed with oil as Scotland. However, their model of exploitation has resulted in a huge oil fund worth $1.4 trillion, owning on average 1.4 per cent of every listed company in the world. Ironically, the biggest problem they have is spending this enormous amount of money. The Norwegian model allowed private companies to invest for a period, but that ownership would revert to the state in stages over many years. Exploration companies factored this declining return into their business models and signed up. Many years later, it is the people of Norway who benefit rather than the shareholders of the oil and gas majors. Scotland missed this opportunity, and it's too late to change that. However, the current growth in renewable energy can be leveraged to benefit people – and we should not miss out again. Using these assets to produce free energy for all is an equitable way to both capture the value and share it out.
As most renewable power plants in Scotland are already owned and operated, the Norwegian model is not available to us. The first step therefore is for the government to purchase these assets. This could be done through a national energy company or directly. In the current market, operating renewable sites is a low-risk source of long-term revenue. Once a wind farm is built and operating, it will typically be sold one or more times over its initial 25-year lifetime. Many Scottish wind farms are now owned by pension funds and other investors rather than the original owner or operator. I would expect a sovereign government to raise bonds or use some other low-cost way to raise the funds to purchase these assets at a fair market value. They may also consider adopting the contracted output or offtake agreement without purchasing the asset on a case-by-case basis.
Many older sites could be re-powered with more powerful turbines, as is currently happening at Cruachan pumped hydro station and others, without additional environmental impact.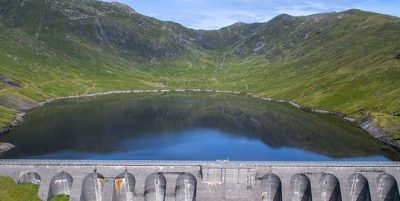 Over time, the government can also develop new legislation and regulations to oblige all new build and refurbished properties to include some form of electricity generation and storage, perhaps a share based on the estimated consumption, within their build. I'm certain that regulations like these are either here or on their way. An added benefit would be to spread generation around the country in a decentralised fashion, requiring less high voltage transmission and co-locating new generation with new housing. Scotland is a hotbed of energy innovation with several new technologies from companies like Boxergy and Sunampoffering new energy solutions for the home.
As the grid transitions to a more decentralised model, intelligence can be added to the network to optimise the performance of the assets, utilise energy storage options or even monitor the grid for unusual load which would suggest abuse of the free domestic supply.
Of course, Scotland generates far more power than it consumes, exporting over £760m of energy to the rest of the UK annually. As a net energy exporter, this will continue, and power can be sold to neighbouring systems under long-term agreements.
One issue which may arise, should an independent Scotland with free electricity provision re-join the EU, is compliance with EU legislation mandating free competition for domestic electricity and gas. This legislation aims to reduce costs to consumers through competition. This would be a tricky situation and likely only resolved through negotiation during the accession process to protect Scotland's unique interests, like Ireland's neutrality derogation to the Treaty of Lisbon.
Finally, the market will not be completely banished from the Scottish energy sector, business customers will continue to seek competitive suppliers based on their own specific requirements just as in the water industry. In the case of the construction, operation and maintenance of energy assets, these would likely be procured by the national energy company from a range of commercial providers on long-term contracts.
Scotland's wealth of natural resources, our preeminent position in the early development and installation of renewable generation and our unique social conditions ideally place us to tackle the global environmental challenges, and we should not be afraid to take a different approach in doing so. Providing free power will take both vision and courage should we choose to pursue it. If we don't, will we be like the townsfolk of C19th Marykirk who, out of fear, rejected Professor Blyth's offer of the surplus electricity generated by the world's first wind turbine? And isn't the promise of sovereignty really about harnessing out history of radical invention, enacting powerful changes that will benefit everyone who lives here?
Sources
Page  1
Nikola Tesla believed
1
Do away with
https://books.google.co.uk/books?id=RllCHPs2KZoC&pg=PA6&lpg=PA6&dq=tesla+sinful+waste&source=bl&ots=8WTs4PDtGM&sig=ACfU3U1vky2zukwaY53TNGBr1-8RhZcpUw&hl=en&sa=X&ved=2ahUKEwjY0sSxgtnyAhVWPcAKHcIEDJwQ6AF6BAgbEAM#v=onepage&q=tesla%20sinful%20waste&f=false
1
California
https://www.latimes.com/california/story/2021-08-30/california-wildfires-evacuations-threaten-homes
1
Siberia
https://www.smithsonianmag.com/smart-news/siberian-wildfires-are-larger-globes-total-blazes-year-combined-180978433/
2
gone out of business in the last few weeks
https://www.nationalworld.com/lifestyle/money/which-energy-companies-have-gone-bust-uk-suppliers-in-trouble-due-to-2021-gas-price-rise-from-bulb-to-avro-3389971
2
reassured by the government
In any scenario, we will ensure UK consumers have continuity of supply – through a Supplier of Last Resort or a special administrator if needed.

The Energy Price Cap protects millions of consumers. It will remain in place (3/3)

— Kwasi Kwarteng (@KwasiKwarteng) September 20, 2021
2
government expects energy prices to rise by 12-13%
https://www.theguardian.com/money/2021/sep/22/uk-ministers-explore-ways-to-cut-soaring-energy-bills-for-poorest-households
4
90% of the UK's surfaces freshwater
https://www.environment.gov.scot/media/1172/water.pdf
4
Scottish Water is in public hands
https://www.gov.scot/policies/water/
4
£372 for 2020/21
https://www.scottishwater.co.uk/your-home/your-charges/your-charges-2020-2021
4
Scottish Water was ranked
https://www.scottishwater.co.uk/about-us/news-and-views/2021/02/150221customerservicesurvey
4
Free public transport
https://www.theguardian.com/cities/2016/oct/11/tallinn-experiment-estonia-public-transport-free-cities
4
75% of the vote
https://www.weforum.org/agenda/2018/06/estonia-is-making-public-transport-free/
5
Rolled out free transportation across the country
https://www.economist.com/europe/2019/05/09/free-public-transport-in-estonia
5
Bill Gates identifies
5
Approach taken by Saul Griffith
https://mitpress.mit.edu/books/electrify
5
Griffith recognises
6
Significant job creation
Decarbonization can fix the jobs crisis and the climate crisis, scientist says
6
22,660 employed
https://www.scottishrenewables.com/assets/000/001/718/2021_FAI_Economic_Impact_of_Scotland_s_Renewable_Energy_Sector_original.pdf?1622564058
6
Annual contribution of £5.2bn
https://www.scottishrenewables.com/assets/000/001/718/2021_FAI_Economic_Impact_of_Scotland_s_Renewable_Energy_Sector_original.pdf?1622564058
6
Removal of the £20 weekly uplift
https://www.glasgowtimes.co.uk/news/19539634.struggling-glasgow-families-will-make-choice-between-heating-eating-universal-credit-cut/
7
Famously predicted
https://www.azquotes.com/quote/1364846
8
Wind turbines are a Scottish invention
https://en.wikipedia.org/wiki/History_of_wind_power
8
12GW
https://www.gov.uk/government/statistics/energy-trends-section-6-renewables
8
14GW
https://www.scottishrenewables.com/our-industry/statistics
8
97%
https://www.bbc.co.uk/news/uk-scotland-56530424
8
Top three
https://www.thenational.scot/news/19499830.scotland-top-three-renewable-generators-across-whole-europe/
8
25%
https://www.gov.scot/publications/scotlands-marine-atlas-information-national-marine-plan/pages/49/
8
The cheapest
https://www.edie.net/news/10/Onshore-wind-and-solar–cheapest–form-on-energy-for-two-thirds-of-global-population/
8
Reducing all the time
Wind and solar are 30-50% cheaper than thought, admits UK government
8
£686
https://www.eas.org.uk/en/energy-trends-and-quarterly-prices_50536/
9
£372 in 2020/21
https://www.scottishwater.co.uk/your-home/your-charges/your-charges-2020-2021
9
Artificially high
https://www.scotsman.com/news/opinion/columnists/scotlands-renewable-energy-industry-being-unfairly-penalised-out-dated-70-year-old-rule-kenny-macaskill-msp-3080956
9
Ofgem recently recommended
https://www.standard.co.uk/business/ofgem-calls-for-big-shakeup-of-energy-market-b901037.html
9
£13bn delayed
https://www.bbc.co.uk/news/business-49721436
10
Blessed with oil
Norway generated £381 billion more than the UK from its oil and gas industry
10
$1.4 trillion
https://www.ft.com/content/6c9f7dec-7a28-4d67-bc4b-60717ebc9f26
10
Typically be sold
https://www.heraldscotland.com/business_hq/19388494.glasgow-group-highlands-hydro-power-plants-acquisition/
11
Cruachan
https://www.heraldscotland.com/business_hq/19396995.energy-giant-seeks-approval-huge-hydro-plant-argyll/
11
Boxergy
https://www.boxergy.com/
11
Sunamp
11
£760m
https://www.insider.co.uk/news/scottish-government-misses-renewable-energy-23800090
12
EU legislation
https://ec.europa.eu/competition/sectors/energy/overview_en.html
Comments
Comments