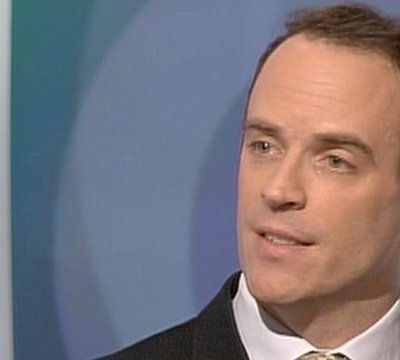 As Dominic Raab steps into government, he brings with him a whole intellectual infrastructure. Where David Davis was essentially a lone wolf, and Boris Johnson looked like a blundering opportunist, the new Brexit secretary has always hunted with a pack: specifically, with a controversial right-wing think tank called the Institute of Economic Affairs, and what is effectively its parliamentary wing, the Free Enterprise Group. The IEA is one of the UK's most influential think tanks. Its representatives regularly appear on the media, advocating everything from privatising healthcare to opposing minimum pricing on alcohol. The free-market think tank's influence runs through a significant portion of the Conservative party, too. In 2016, new health minister Matt Hancock was heavily criticised after accepting a £4,000 donation from the IEA's chairman just weeks after announcing a clampdown on charities lobbying advocated by the think tank. The policy was later dropped.
Dominic Raab seems particularly enamoured by the IEA. Speaking at the think tank's 60th birthday celebrations in 2015, Raab outlined how crucial the IEA had been to his thinking, and to giving him and his ideas a platform.
In 2009, before the Brexit minister was an MP, Raab wrote a book, The Assault on Liberty: What went wrong with rights. The book was launched at the offices of the Institute for Economic Affairs.
In 2012, as an MP, he and his colleagues wanted "to take on this ludicrous, debilitating, anti-austerity, anti-capitalist narrative put out there by the egalitarian left in this country". They penned a book together, Britannia Unchained, in which Raab's line that British workers are "among the worst idlers" grabbed headlines across the press, but which was more worrying because of its proposals – a string of radical-right ideas, like for-profit schools, and abolishing a whole collection of basic workers' rights.
Talking about the book later, Raab said, "it was the IEA which supported us in waging the war of ideas and launching that book."
Dark-money funded think tank
The IEA refuses to reveal its sources of funding, regularly receiving the lowest rating for transparency from campaign group Who Funds You? But we do know where some of its money comes from.
The IEA was long financed by tobacco firms as the industry sought to avoid regulation. The group also accepts funding from the USA through the American Friends of the IEA, which was set up to allow US-based corporations and individuals to donate to the IEA. The American Friends of the IEA has donated more than $500,000 since 2010 according to documents filed in the US.
The IEA has also received more than half a million dollars from the US-based Templeton Foundation to conduct research in recent years. In 2014, the group received a grant of $155,000 to "seek alternatives" to "public, pay-as-you-go financed systems of pensions, disability insurance, healthcare and long-term care", and promote privatisation of each of these areas, according to the Templeton Foundation's website.
The IEA was founded in 1955 as the UK's original neoliberal think tank, and has been described in Andrew Marr's History of Modern Britain as "undoubtedly the most influential think tank in modern British history".
The MPs who wrote Britania Unchained were all members of the "Free Enterprise Group", a faction of Conservatives most of whom were first elected in 2010. In many ways, the Free Enterprise Group operated as the IEA's parliamentary wing, with the two groups organising events and media briefings together, calling on the government, for example, to make it easier for bosses to sack workers and "reducing regulation and red tape" – which is usually code for abolishing basic rights at work, as well as protections for the environment and consumers.
Raab's views have been widely circulated since his appointment as new Brexit secretary yesterday. Feminists, he says, are "now among the most obnoxious bigots". "The typical user of a food bank," he thinks, "is not someone who's languishing in poverty, it's someone who has a cashflow problem episodically."
It's important to see that these aren't simply gaffes from some home-counties Tory out of touch with the modern world. They are the views of a politician who has been nurtured and promoted by a radical think tank, which refuses to reveal where it gets its money from.
In his speech at the IEA's birthday, Raab talked about swimming on a beach in Brazil and emerging from the water only to discover that the current had quietly moved him hundreds of metres along the shore. The IEA operates similarly, he said, quietly moving British politics to the right, without anyone noticing.
But as a politician they have nurtured over a decade takes on the reins of Brexit, will voters start to pay more attention to the private interests secretly funding this ubiquitous think tank, seeking to quietly steer political debate in our country? Let's hope so.
First published in Open Democracy: https://www.opendemocracy.net/uk
About the authors
Adam Ramsay is the Co-Editor of openDemocracyUK and also works with Bright Green. Before, he was a full time campaigner with People & Planet. You can follow him at @adamramsay.
Peter Geoghegan is investigations editor of openDemocracy's main site. He can be found on Twitter @PeterKGeoghegan.
Comments
Comments