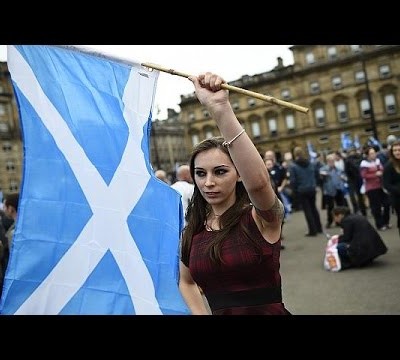 Since the Indyref in September 2014, every electoral result in Scotland has indicted the current UK Government and endorsed pro-Indy parties. Scotland sent 56 SNP MPs to Westminster last year following a landslide result and returned an SNP minority Government for a historic 3rd term to the Scottish Parliament in May 2016, together with a majority of Yes alliance parties. Scottish voters have now voted overwhelmingly, by 62% to 38%, to remain a member of the EU. Unbelievably, it has been English voters in the end who have precipitated the break-up of the Union. David Cameron has resigned, and will inevitably be replaced by a further-right colleague who campaigned to Leave. The new Prime Minister will be the leader responsible for negotiating the UK's exit from the EU. The Leave campaign centred around fear of the unknown, capitalising on concerns around immigration, taxation and the distance and irrelevance of the EU. Leave campaigners lost that argument with the Scots. Every electoral authority in Scotland and an absolute majority of Scots have voted to remain in the EU. We now need to hold a second Indyref to ensure the continuance of our EU membership in parallel with the UK's (England's?) negotiations to leave.
During the Indyref campaign, it was automatically assumed by all parties – the European Union, the UK Government and the Scottish Government – that "rump UK" (i.e. England, Wales and Northern Ireland if Scotland left the UK) would remain a member of the EU. Well, now Scotland, having expressed their democratic intention to remain, is rump UK. We are the part of the UK that wishes to remain in the EU, and there is every (legal and constitutional) reason to believe that while England negotiates its exit, Scottish membership of the EU can continue just as England's would have done.
There is no political precedent for the mass cancellation of legal citizenship documents or the forced repatriation of citizens by any democratic developed country in the world other than for criminals and terrorists. A mass expulsion of non-British EU citizens from the UK or vice versa is unimaginable. And British passport holders are all EU citizens, so the only option for the UK Government to denude Scots like me of our existing EU citizenship is by forceable cancellation of our existing EU passports.
Personally, I have no intention of giving up my EU passport (valid until 2022). I have lived in Italy and Germany and my brother currently lives and works in Spain with his Spanish partner. We hold EU passports, have studied abroad, speak a few languages between us and have moved freely around the EU our whole adult lives; everywhere we have lived we have been treated as free and equal European citizens. We work with Spaniards, Italians, Lithuanians and Poles. We welcome EU migrants and others to an inclusive, multi-ethnic and multinational Scotland. We support Scotland's vote to remain. We are European.
Comments
Comments