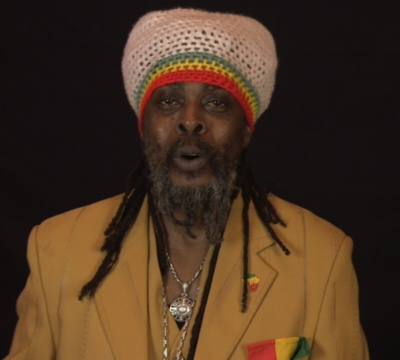 Given events in Charlottesville, Virginia over the last week, the symbolic significance of statues couldn't be clearer. Virginia, after all, was one of the key points of the global perambulations of the nineteenth century slave trade. It was also the state where confederate general Robert E Lee commanded his army. More than a century on, the proposed removal of Lee's statue in Charlottesville became the alt.right/fascist mob's main battleground. Meanwhile, in the Scottish National Portrait Gallery, John Flaxman's 1828 white marble statue of Robert Burns stands centre stage tall and proud at the centre of the Grand Hall, not giving an inkling of the national bard's own flirtation with the slave trade. Burns made plans several times to embark on a ship to the West Indies to become a slave driver. In the end he never set sail, but the intention was there.
As part of Edinburgh Art Festival, the Portrait Gallery is currently housing two complementary installations by leading Scottish artists that challenge Burns' assorted perceived images by transcending them. In the Gallery's Grand Hall, Douglas Gordon has created Black Burns, in which Flaxman's original has been cast in black marble, then smashed into pieces, which lie sprawled at the feet of Flaxman's imperious white forebear.
In the gallery next door, The Slave's Lament is a video installation by Graham Fagen, in which reggae singer Ghetto Priest sings a new setting of Burns' lyric that empathises with those trafficked and put into slavery. Composed by Sally Beamish, the recording is produced by Adrian Sherwood, whose On-U-Sound record label has been a melting pot of dub reggae for almost forty years.
Fagen's installation was originally curated by Hospitalfield, Arbroath and seen when Fagen represented Scotland at the Venice Biennale in 2015. This follows Fagen's previous melding of Burns with reggae, first with Clean Hands Warm Heart at Tramway, Glasgow in 2005, then with I Murder Hate at the Tolbooth and Changing Room, Stirling, in 2009. While the former video installation featured Ghetto Priest singing a mash up of The Slave's Lament and Auld Lang Syne, the latter saw Ghetto Priest and Sherwood perform with Tackhead's Skip MacDonald, folk guitarist Ian King and percussionist Pete Lockett to coincide with a new recording of the Burns lyric that gave the show its name.
The fact that both artists discovered reggae by way of punk, and bunked off life drawing class at Glasgow School of Art to see a secret gig by The Clash seems relevant somehow. This is both to Fagen and Gordon's artworks, and to the fifty minute compendium of poetry and music that formed Had We Never itself. There are umbilical links too in the evocative performances by Ghetto Priest and Scots Makar Jackie Kay.
Billed in the programme of the Edinburgh International Festival, who presented the event in collaboration with SNPG, as Robert Burns: Chains and Slavery, Had We Never takes its title from lines in Burns' Ae Fond Kiss, sung live here by bass singer Brian Bannatyne-Scott. This followed a rendition of The Slave's Lament by countertenor David James which opened the late night programme with the shattered fragments of Gordon's Black Burns cordoned off, as if a fatal accident had taken place. The audience seated around it bore witness alongside Flaxman's statue, upright and untouched.
With Kay reading poems inbetween the songs with a stark emotional clarity, a loose narrative emerged that shifted the meanings of things by way of other influences. So when Ghetto Priest stepped up to sing Beamish's setting of The Slave's Lament, played by violinist Jonathan Morton, cellist Alison Lawrence and double bassist Diane Clark (all of the Scottish Ensemble) it opened out Burns' original words through more than two centuries of trickle-down oppression. James' rendition of Estonian composer Arvo Part's setting of My Heart's in the Highlands sounded more formal, but a similar sense of multi-cultural roots criss-crossing each other pervaded throughout. Inbetween, Shostakovich's takes on O wert thou in the cauld blast and McPherson's Farewell achieved something similar.
While by no means deliberate, all this reflected the uncomfortable truths tackled in stunning fashion by Edinburgh band Young Fathers in a video filmed last month at the Portrait Gallery, when they attacked the whitewashing of history head on in a devastating new spoken word piece. While their video wasn't part of Had We Never's programme, the racist bile it attracted from online trolls in response seemed to confirm Young Fathers' point.
A closing A Man's A Man doesn't let Burns off the hook. Rather, it seemed to acknowledge his flaws. For all his seeming assurance on the outside, inside – just like Black Burns – he was in pieces.
Comments
Comments